Top Agriculture Courses After 12th – Career, Salary & Job Opportunities
High Salary Agriculture Courses After 12th: Career in Agriculture is one of the most important industries and a good source of employment across the country. Agriculture conjointly plays an important role in the Indian economy. At present, students from everywhere in the country are choosing the agriculture field for their career prospective.
Firstly, let us define the term "Agriculture"
Agriculture is the process and science of farming & cultivation of plants, animals, fungi, medicinal plants and different products that are used to enhance human life.
The study of agriculture is defined as "Agricultural Science".
Agricultural Science is a multidisciplinary field that comprises of a variety of scientific, technical & business subjects. It promotes the efficient production of quality food within the agricultural-food industry & on the farm linked to farming.
Agriculture Field includes horticulture, farm management, businesses & industries which buy farm products, manufacture agricultural machinery, banking activities, research for improving the quality of farm products, etc.
A person who specializes in this field is called "Agriculturists".
The history of agriculture dates backs thousands of years ago. Wild grains were collected and eaten from 105,000 years ago, rice was domesticated in China between 13,500 & 8,200 years ago and pigs were domesticated in Mesopotamia around 15,000 years ago.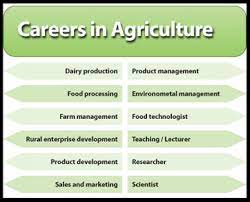 Career options in Agriculture After 12th:
To start a professional career in agriculture, you will need to pursue courses in this field. Students have a variety of options to pursue courses in the agriculture field. Some popular courses are listed here.
List of Agriculture Courses After Class 12th:
Certificate Courses:
Certificate course in Food & Beverage Service
Certificate in Agriculture Science
Certificate course in Bio-fertilizer Production
Diploma Courses:
Diploma Courses in Agriculture and Allied Practices
Diploma in Agriculture
Diploma in Food Processing
Bachelor Courses (B.Sc):
Bachelor of Science (Honors) in Agriculture
Bachelor of Science in Agriculture
Bachelor of Science in Crop Physiology
Master Courses (M.Sc):
Master of Science in Biological Sciences
Master of Science in Agriculture
Master of Science in Agriculture Botany
Doctoral Courses:
Doctor of Philosophy in Agriculture Biotechnology
Doctor of Philosophy in Agriculture
Doctor of Philosophy in Agricultural Entomology

How to get admission in Agriculture Courses?
Students will apply for admission in agriculture courses through the entrance test organized at national, state and university level. Candidates will apply for this course after finishing their 10+2 education. Some colleges additionally provide admissions on the basis of merit list of the qualifying test. Some agriculture entrance exams are mentioned here:
ICAR AIEEA 2023
BCECE 2023
JCECE 2023
KEAM 2023
MP PAT 2023
Agriculture Courses Salary & Pay-Scale:
"Agriculture field rewards a good salary package to the smart working people".
In India, many government and private industries offer good salary packages to the agriculture aspirants. With a higher degree and good expertise in this field, you'll earn a lot during this field.
"As a B.Sc (Agriculture) graduate, you'll simply earn around 3 to 4 lacs each year in India".
Job Titles:
Crop specialist
Fertilizer sales representative
Food microbiologist
Food researcher
Plant geneticist
Soil surveyor
Farm manager
Top 5 Best Agriculture Books:

NOTE: Want more information about career guidance after 12th std. Just go for our career guidance page or click on the direct link given below. CAREER COUNSELING: CLICK HERE >>>

For more information on You tube videos about your career counseling CLICK HERE: