Top Nutrition and Dietician Courses After 12th – Career, Salary & Job Opportunities
High Salary Nutrition and Dietician Courses After 12th: A dietician mainly deals with dietetics. Regulation of diet according to the nutritional and calorific needs of the patients or clients is what a dietician takes care of. To practice as a dietician, a professional license and recognition from relevant authority/governing body are required.
In India, the Indian Dietetic Association (IDA) is the authoritative body that takes care of licensing and membership of practicing dieticians.
While nutritionists and dieticians are quite similar in many ways, there sure exist few differences between these 2 professions. To become a professional nutritionist in India, there is no need to obtain a license. However, to become a dietician, one should possess a license and become RD (Registered Dietician).
Though nutritionists and dieticians share several common tasks, an RD (Registered Dietician) is more like an allied health care professional.
An RD is more involved in the health care setup. He/she will be seen working in hospitals and clinics, monitoring patients and preparing diet plans for them. RDs work in tandem with consulting Doctors. They observe the Doctor's diagnosis and inputs and prepare diet plans for patients based on those observations and inputs.
Other than healthcare centers, they'll even be seen working at fitness centers, sports centers, and their own clinics. A nutritionist is more concerned with the research and food manufacturing sectors.

For more information on You tube videos about your career counseling CLICK HERE:
List of Nutrition and Dietician Courses After Class 12th:
Like other professional courses, nutrition and dietetics courses are obtainable in three formats in India. They're diploma courses, undergraduate (Degree) courses and Postgraduate (PG) courses (Certificate courses are obtainable, but they're not highly valued or detailed). Allow us to check out each course format and find out important details regarding them-
Diploma Courses:
Diploma in Food Science and Nutrition
Diploma in Nutrition and Health Education
Diploma in Dietetics
Diploma in Nutrition and Dietetics
Diploma in Dietetics and Clinical Nutrition
Diploma in Nutrition and Food Technology
Course Duration: Regular diploma course is 2-3 years long. Depending upon the institute, course period may vary. Some institutes are known to provide distance education course format. Course duration may differ when considering such course formats.
Eligibility Criteria: 10+2 passed from a recognized board (or equivalent).
Bachelor's Degree Courses:
Sc. in Food Science and Nutrition
Sc. in Applied Nutrition
Sc. in Clinical Nutrition
Sc. in Nutrition and Dietetics
Sc. in Dietetics
Sc. in Home Science (Nutrition and Food Science specialization)
Course Duration: Bachelor of Science Degree course is three years long.
Eligibility criteria: 10+2 Science stream passed from a recognized board (or equivalent).
Admission process: Depending upon the institute, it might be a direct admission method or merit-based admission method. When it comes to merit-based admission process, marks scored students in board examination and/or relevant entrance test are taken into consideration. Based on merit marks, seats are going to be allotted to deserving candidates.
PG Courses & Further Education:
Renal Nutrition
Public Health Nutrition
Food Science/Technology
Clinical Nutrition
Paediatric Nutrition
Sports Nutrition/Dietetics
Gerontological Nutrition
Course Duration: M.Sc. course lasts for a period of two years. PG diploma course lasts for a period of one year.
Eligibility Criteria: Should possess a relevant Bachelor's Degree from a recognized University/Institute. The minimum aggregate marks needed might be around 50-55% (or equivalent grade).
Career Options in Nutrition and Dietician after 12th & Job Opportunities:
Diverse job opportunities exist in front of nutritionists and dieticians in India. each Government and private sector job opportunities are available in front of them.
Nutritionists or dieticians might build a career within the following sectors- R&D (Research and Development), health care sector (hospitals, clinics, health centers, etc), Government schemes and organizations, NGOs, the Teaching and Education sector.
To build a career within the R&D sector, qualifications like M.Phil. and Ph.D. is going to be of use. M.Sc., M.Phil. and Ph.D. qualifications also will enable one to take up the job post of a lecture or instructor.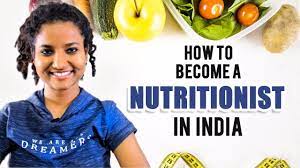 How to Become a Registered Dietician in India?
Educational qualifications required: B.Sc. in Home Science (Food and Nutrition) or B.Sc. in Nutrition and dietetics or different relevant B.Sc. course. After B.Sc., one should conjointly complete M.Sc. or PG diploma in Clinical Nutrition or Food & Nutrition.
After finishing relevant B.Sc. and M.Sc. courses, one should go through 6 months long internship stint at any one of the various hospitals recognized by the IDA OR possess two years to work experience at any multidisciplinary hospital as a dietician.
Recruiters:
Talking about the Government sector, some of the Famous recruiters include:
Government hospitals
Government Organizations (like FNB, ICMR, Public Health Foundation etc)
Government R&D units
Community health centers
Government Schemes and Missions (like ICDS, NHRM etc)
Government Nursing homes
Government Nutrition Education Institutes
Coming to the private sector, some of the Famous recruiters include:
Private clinics and hospitals
Private R&D units
Private Nutrition Education Institutes
Health Clubs
Nursing homes
NGOs
Food products manufacturing firms
Pharmaceutical firms
Fitness Centres
Sports Centres and Franchises
Hotels
Top 5 Best Nutrition and Dietician Books:

NOTE: Want more information about career guidance after 12th std. Just go for our career guidance page or click on the direct link given below. CAREER COUNSELING: CLICK HERE >>>