Top Paramedical Courses After 12th – Career, Salary & Job Opportunities
High Salary Paramedical Courses After 12th: 12th Science Biology group students usually set courses like MBBS, BDS, BAMS, Nursing, B.V.Sc., Pharmacy and BHMS as their prime targets. Aside from these courses, they're also eligible to pursue another course that falls under the class of 'paramedical courses'.
Paramedical courses are usually associated with the allied healthcare sector. These courses are just as useful and job oriented as the courses directly related to the field of healthcare (nursing, medicine, and pharmacy).
Paramedical courses train students and turns them into skilled and qualified allied healthcare workers and technicians. Together with Doctors and Nurses, allied healthcare workers also play an integral role within the smooth functioning of the healthcare industry in India.
The demand for allied healthcare workers is on the rise in India. They're additionally in huge demand abroad, where their pay package is much higher than what it is in India.
Depending upon the type of the course, both 10th and 12th passed students are eligible to pursue paramedical courses in India. Allow us to check out the most types of paramedical courses available in India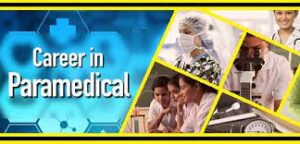 Types of Career options in Paramedical Courses After 12th:
The 3 main types of paramedical courses available in India are:
1.Bachelor's Degree courses
2.Diploma courses
3.Certificate courses

For more information on Youtue videos about your career counseling CLICK HERE:
List of Paramedical Courses After Class 12th:
Top Bachelor's Degree Paramedical Courses:
Bachelor of Physiotherapy
Sc. in MLT (Medical Lab Technology)
Sc. in Ophthalmic Technology
Sc. in Audiology and Speech Therapy
Sc. in Optometry
Sc. in X-Ray Technology
Sc. in Radiography
Sc. in Medical Imaging Technology
Bachelor of Occupational Therapy
Sc. in OTT (Operation Theatre Technology)
Sc. in Dialysis Technology
Sc. in Medical Record Technology
BASLP
Sc. in Anaesthesia Technology
The above mentioned Bachelor's Degree courses are usually 3 years long. Some academic programs are 4 years long (theory + practical training).
Top Diploma Paramedical Courses:
Diploma in Physiotherapy
Diploma in Anaesthesia Technology
Diploma in Dental Hygienist
Diploma in Rural Health Care
DMLT (Diploma in Medical Lab Technology)
Diploma in X-Ray Technology
Diploma in Radiography
Diploma in Medical Imaging Technology
Diploma in Medical Record Technology
Diploma in Nursing Care Assistant
Diploma in Occupational Therapy
DOTT (Diploma in Operation Theatre Technology)
Diploma in Dialysis Technology
ANM
GNM
Diploma in Ophthalmic Technology
DHLS (Diploma in Hearing Language and Speech)
Diploma in Community Health Care
Diploma courses must last anywhere between 1-3 years.
Top Certificate Paramedical Courses:
Certificate in Operation Theatre Assistant
Certificate in Rural Health Care
Certificate in HIV and Family Education
Certificate in Nutrition and Childcare
Certificate in Nursing Care Assistant
Certificate in X-Ray Technician
Certificate in Lab Assistant/Technician
Certificate in Dental Assistant
Certificate in ECG and CT Scan Technician
Certificate in Dialysis Technician
Certificate in Home Based Health Care
Certificate paramedical courses could last anywhere between 6 months to 2 years.
Top 5 Best Paramedical Books:

NOTE: Want more information about career guidance after 12th std. Just go for our career guidance page or click on the direct link given below. CAREER COUNSELING: CLICK HERE >>>