CTET Certificate Verification (Latest Updated)- How to Verify CTET Mark Sheet Online?
CTET Certificate Verification: The HRD Ministry India has set up a dedicated portal, the National Academy depository, which can eventually have a database of all mark sheets issued by senior secondary school boards and higher education institutions in India.
To start with, the depository can have mark sheets of Central Board for secondary education examination and Central Teacher Eligibility Test (CTET), "The candidates can check their results on the website of the depository," HRD minister said.
The Database by National Academy Depository would facilitate online verification of academic awards issued by boards and universities, thereby identifying attempts made to use fake and solid academic certificates. In addition, students can even overcome their fear of losing a certificate as they too would be able to access the database anytime and anywhere. Here applicants will get complete information about CTET Certification Verification and CTET Certificate Image etc.
Latest Applications For Various UG & PG Courses Open 2024
CTET Certificate Verification:
(Officially Updated)

For Official Notce Regarding CTET & TET Certificate Validity. Click Here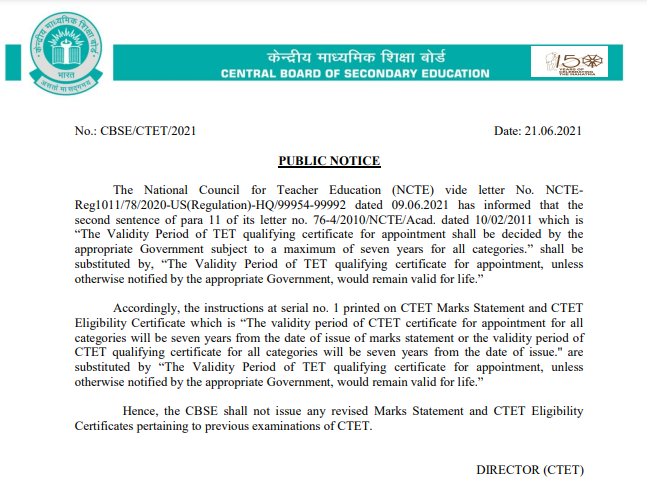 National Council for Teacher Education (NCTE) has granted its approval for the extension of validity of the Central Teacher Eligibility Test (CTET) and Teachers' Eligibility Test (TET) Certificate to lifetime. Earlier, the Certificate of TET or CTET exam was valid for up to 7 years. The decision in this regard was taken during the 50th Meeting of the NCTE's General Body that was held on September 29, 2020.
ALSO READ: CTET CERTIFICATE DOWNLOAD
CTET Marksheet Online Verification:
A person or institution will register first. The website can generate a unique login and a password to access the mark sheets.
Thereafter, a person or the institution is able to access mark sheets of particular roll numbers. The ministry was bringing legislation to make it necessary for all educational institutions across India to provide their degrees and mark sheets to the portal for verification.
How to Get CTET Certificate Verify Online:
1. CTET passed candidates can be able to verify their mark sheet Certificate.
2. Open any of the websites that are following online CTET Marksheet Certificate Verification.
3. you'll be able to follow few official websites to check further details.
4. Check the online verification page.
5. Fill in the whole essential information like your CTET Roll Number, Date Of Birth, Address, Email Id, phone number, and address.
6. Upload a Scan Copy of your CTET Marksheet Certificate.
7. Then just click Submit Button
8. you may receive a message that your CTET Marksheet Certificate is registered and verified with success.
The validity of the CTET Certificate:
The Validity period of the CTET qualifying certificate for the appointment is going to be seven years.
The validity period starts from the date of declaration of its result.
A person can take a CTET Certificate number of times and there's no restriction.
If a candidate must reappear again for improving his/her score may additionally seem again.
A duplicate copy of the Marks Statement or Eligibility Certificate could also be got by the candidate by paying a fee as given below by means of demand draft.
DD is going to be in favor of Secretary, CBSE, drawn on any nationalized bank, payable at Delhi.
On CTET's official website, the format for applying for duplicate marks statements/certificates is accessible.
Latest Applications For Various UG & PG Courses Open 2024